Grandpa Romney Lectures Liberty University Grads
on
May 13th, 2012
at
10:50 pm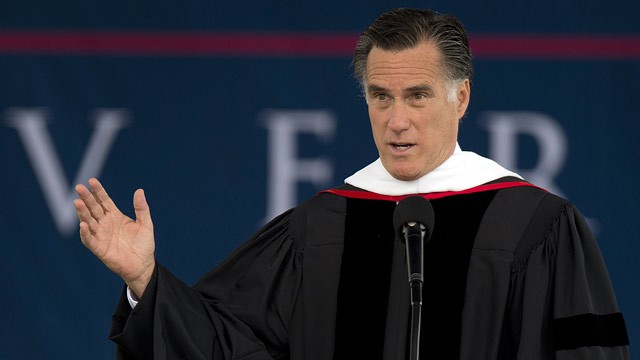 Mitt Romney had a chance to stand for something Saturday when he gave the commencement address at Liberty University in Lynchburg, Virginia. Fresh off his unfathomable inability to recall traumatizing young high school student John Lauber, Romney had to chance to chastize those who bully and to call for tolerance in our associations and with our neighbors. He did neither.
Instead, Romney doubled-down on his intolerance, insisting that his way is the only way, that the Mormon Church's way and the far-right evangelical way, must be the American Way.
Addressing a sympathetic audience at Liberty University, Romney reached out to the graduating class with the only thing he could find in common with them, bigotry against gay people. As students tried to celebrate their educational achievement, Romney used the platform to sell his social platform and score political points.
"People of different faiths, like yours and mine, sometimes wonder where we can meet in common purpose, when there are so many differences in creed and theology," he said during his speech.   Read more at USA Today
Romney found his biggest applause line when he railed against same-sex marriage. The ovation was to be expected, as the founder of Liberty University, Jerry Falwell, was an extreme anti-gay bigot. The school has never allowed for dissent, and is so far right that it's even outlawed the Democratic Club there. Another indication that Romney is a divider, not a uniter.
It was fairly predictable that Romney would fail to take a stand and, instead, pander to the far right on social matters. What was more surprising was that Mitt Romney didn't take a stand for his own religion. Almost everybody at Liberty University considers Mormonism a cult and they disparage it openly, yet Mitt Romney didn't even try and defend his own religion.
Does this guy stand for anything?