on
October 22, 2014
at
5:23 am
President George H.W.Bush entered one of the most contentious senate races in the country this week when he placed himself into the middle of the Georgia contest between Michelle Nunn and David Perdue– or did he? The Atlantic ignited the firestorm when it blared the headline, George H.W. Bush Tells Michelle Nunn to Leave Him Alone Again: The Democratic Senate hopeful in Georgia is ignoring the former president's pleas not to use his image in her ads. The problem with this headline is obvious– it's all untrue. It should have read, Bush spokesman Jim McGrath told us that  the former President said these things.
The fact that George H.W. Bush would come out in support of David Perdue is odd in itself. The former president hasn't supported any other candidate this year and he's built a post-presidential reputation for staying out of the messy business of politics. Additionally, Michelle Nunn was Bush's choice for CEO of his beloved Points of Light Foundation, a position which she served for seven years. Mr. Bush has only spoken of her in the most glowing terms. In an even stranger twist, after securing Bush's endorsement, the Perdue campaign launched an attack on Points of Light saying that it had aided terrorists, an attack condemned by son Neil.
One day after Republican David Perdue pocketed the endorsement of George H.W. Bush in the race for U.S. Senate, a son of the 90-year-old former president denounced as "shameful" and "disrespectful" Perdue-endorsed claims that a Bush-established foundation once headed by Democratic rival Michelle Nunn "gave money to organizations linked to terrorists."   Read more
Why would President Bush have anything to do with David Perdue? The answer is Jim McGrath, the political consultant who has arranged the Bush-Perdue relationship. It was McGrath who brought Perdue to Kennebunkport, September 14, 2014, to secure the Bush endorsement, and it was McGrath who crafted President Bush's press release.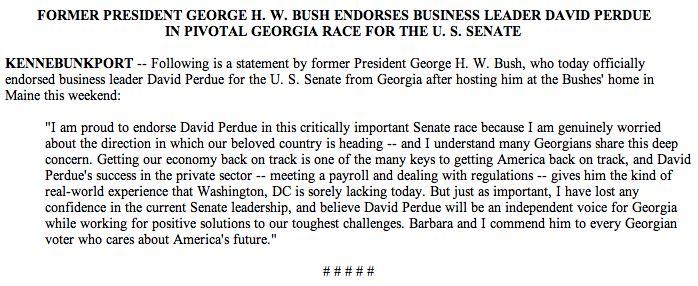 It was also McGrath who orchestrated Bush's alleged outrage at Michelle Nunn this week using newly hired Atlantic reporter Russell Berman to do his dirty work. Berman formerly worked at the very conservative New York Sun. It worked. Media outlets around the country reported what they thought Bush said. Of course, there's no indication he actually said any such thing. The only thing we know for sure is that Jim McGrath said he said it.
President Bush is now 90 years old. He's suffered serious health issues the last few years. That's not to say he's incapable of endorsing David Perdue. If he's alert and healthy enough to do that, he owes it to Georgia voters to come out publicly and speak openly about his feelings. Otherwise, this endorsement is highly suspect. Jim McGrath seems to be acting like Rasputin, manipulating the President and his legacy to suit McGrath's personal political interests. If that's the case, not only is McGrath acting immorally, but he's also acting criminally. Manipulating a former President and damaging his reputation in the process is not an insignificant affair.